CHARBRAY CATTLE – a breed in a class of their own.
History of Charbray Cattle
The cattle breed Charbray was originally tested in Australia in the early 1960s. At that time the founders of the Charbray Society used Charolais and Brahman cattle to obtain the Charbray breed.
To be a registered Charbray animal the breed has to range between 25% & 75% either way between Charolais and Brahman.
The introduction between Charolais and Brahman together through genetic breeding has given the Charbray breed the flexibility to perform in all environments. The combination of Charolais and Brahman after 50 plus years has now put Charbray cattle as a leading breed in its own right in Australia.
Generation bred Charbrays are now graded as high as a C6 which was recently introduced from a C5 to emphasise that the Charbray is a breed on its own now (see Charbray Breeding Chart) and this gives consistency to the progeny of cattle producers.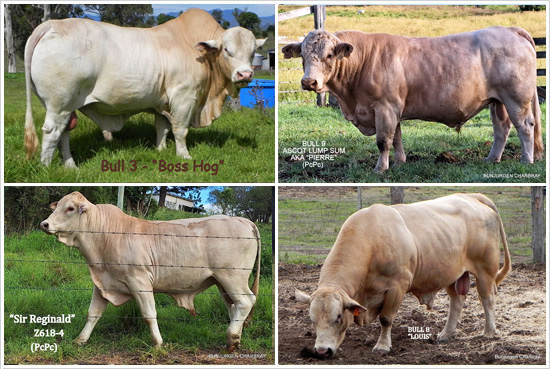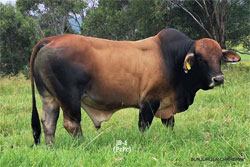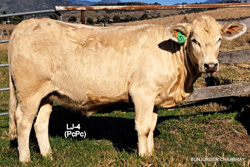 The colour of Charbray cattle ranges from white through to red and these colours are all acceptable.
The Charbray bull is structurally sound and has the ability to work as required over large areas in all environments – hot or cold. He can also be used over many other breeds to produce top quality animals that will yield good carcass weights and quality meat at the end of the day.
Charbray females reach puberty at about 14 months and are therefore ready to calve at approximately 2 years of age. They should be then ready to join every year.
Many Charbray females have been known to have had 13 and 14 calves in 13 and 14 years. Milk production, ease of calving and mothering is an excellent trait in Charbray cattle.
Statistical data shows that Charbray cattle on grass alone can put on between .8 – 1 kilo+ per day (subject to grass quality.)
Charbray regularly grade MSA compliant and hold their own against most breeds under the MSA system.
Top quality bulls and heifers now available for sale at Bunjurgen Charbray.